For Immediate Release JUNE 16, 2010 - JULY ISSUE 2010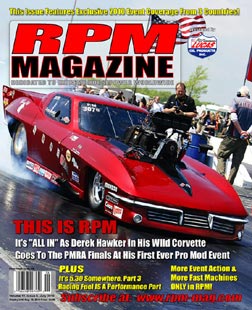 COVER - It's 'ALL IN' As Derek Hawker In His Wild Corvette Goes To The PMRA Finals At His First Ever Pro Mod Event! This IS extreme motorsports... people who run the ragged edge, who confront horsepower head-on for your entertainment, and their adrenaline rush! It's the PMRA!
Event Coverage From 3 Countries Featured In This Issue Of RPM Magazine!
Inaugural Door Car Jam-A-Rama

Southern Outlaw Tour

Across The Pond -- The UK Street Eliminator Series
'CATEGORY 6'-- The PMRA

It's 5.30 Somewhere! Part 3 - The final installment, the end game.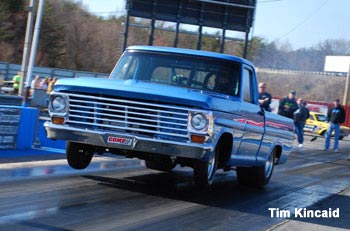 CHANGE - Eric Gullet's Project 5.30... The Feature!
Feature Story - THE FARM TRUCK - 605 cubic inches of badass Ford power reside under the enormous hood of Tim Kincaid's 1972 F-100. And With a PT114 turbocharger mounted in the bed, this Ford pickup hauls more than hay!
Racing Fuel IS A Performance Part - VP Race Fuels talks about the most inexpensive way to make more power-- your race fuel!

INDUSTRY SPOTLIGHT - Patriot Performance = PRIDE! A business success story built on old school values.
..and so much more, ONLY in RPM!